It all began with a Very Bad Idea.
In 1961 the Board of Supervisors proposed a master development plan for the entire County. San Geronimo Valley was slated to have 5,000 new homes and 20,000 new residents scattered across the ridgelines. Sir Francis Drake Blvd. would become a four-lane freeway. There were plans for a new high school, a shopping center, a hospital.
It took a decade to solidify the details. Two supervisors strongly supported the plan's adoption, two opposed it. The fifth seat was District 4 - the Valley's district - and in 1972 it was an open election. The fate of the Valley hung in the balance.
Running for the seat was a liberal, agricultural preservationist and former Lagunitas School trustee, Gary Giacomini. Just before the election, there was a community outcry from the newly formed San Geronimo Valley Planning Group opposing the '61 plan. The Group promised to throw its support behind Giacomini if he stood by them.
He did, he was elected, and the '61 master plan was tossed out. The Planning Group then spent the next five years working on the very first community plan to replace the countywide plan. The San Geronimo Valley Community Plan set a boundary around each of the four villages, protecting the Valley's ridges, streams and natural resources. A 20-acre zoning requirement outside village boundaries safeguarded the rural character of the Valley and assured minimal development in agricultural lands and open space.
The Valley's Community Plan was accepted by the Board of Supervisors in 1978 and updated by the Planning Group in 1997. It describes approved community goals, objectives, policies and programs designed to preserve the unique natural attributes of the Valley and its four villages, as well as the historical character of the built environment. These guidelines reflect the Valley's unique cultural, economic, and ecological values and is used by the Community Development Agency staff, the County Planning Commission, and the Board of Supervisors to review specific development proposals within the Valley.
The Plan also defines land use and conservation guidelines that provide direction to property owners, community groups, prospective developers, and interested individuals. It expands upon the policies and programs in the Countywide Plan by providing more specific information about existing conditions, environmental issues, community character, and the constraints and possibilities for development. It's why our beautiful rural Valley continues to exist.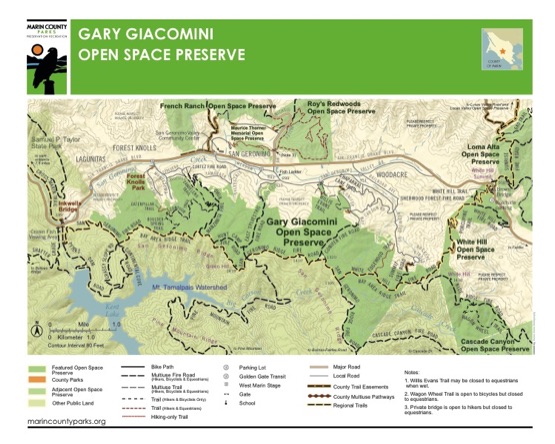 Our 1,600-acre open space preserve is named in honor of the District 4 spervisor who ensured the defeat of the original 1961 County Master Plan that would have turned the San Geronimo Valley into suburbia.